Licensed Wood Heater Installer
For all your wood heating needs – supply, installation, servicing, repairs, flue cleaning & chimney sweeping.
Wood Heaters – The Ultimate In Luxury
There is nothing like chilling out and relaxing in front of a real log fire. The warm and cosy feeling, the beautiful heat and the mesmerising flames create the perfect ambience in any room. A wood burner is a stylish centrepiece and a fantastic heat source. Plus, with a range of built-in, free-standing and suspended wood burners, there's a wood heater for every style and budget.
Wood heaters are also called wood burners, combustion heaters, log fires or stoves and burn wood to create heat for your home. Wood heaters are highly efficient and super stylish, and with a choice of traditional and elegant or modern and contemporary designs, there's a wood burner for every style and budget. There are two different types of wood burners to choose from:
Radiant Wood Heaters                    
Radiant wood heaters are a great way to heat paves of between 160-300 sq.m. As the name suggests, radiant wood heaters radiate heat outwards from the central heat source. The closer you are to a radiant heater, the warmer the temperature.
Convection Wood Heaters
Convection wood heaters use both radiant and convected heat to warm your home. A convection heater has a built-in fan that draws in air from the room, heats it and blows it back out. Convection heaters are great for moving air around the house and are ideal for larger spaces and long hallways. As they actively move the heat around, they tend to give a more even temperature throughout the room.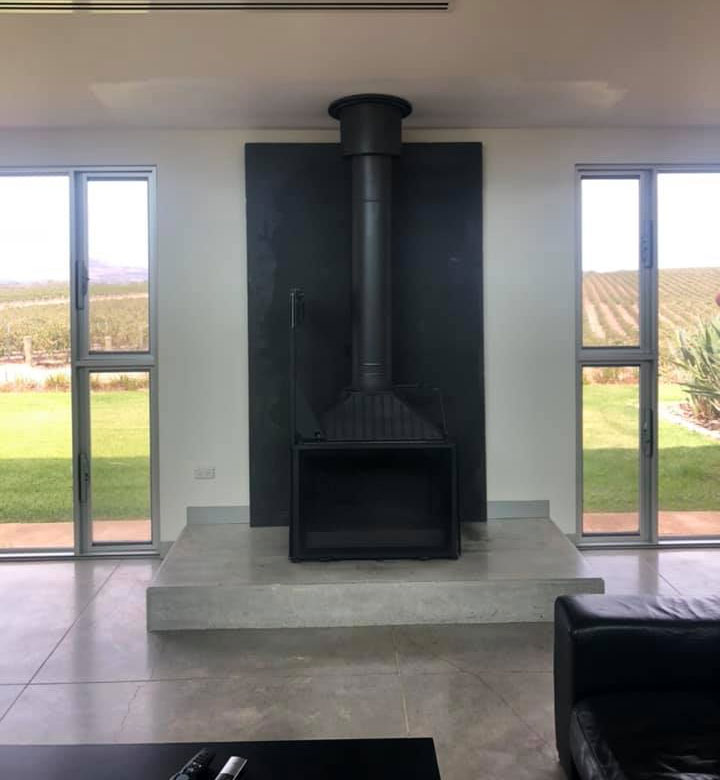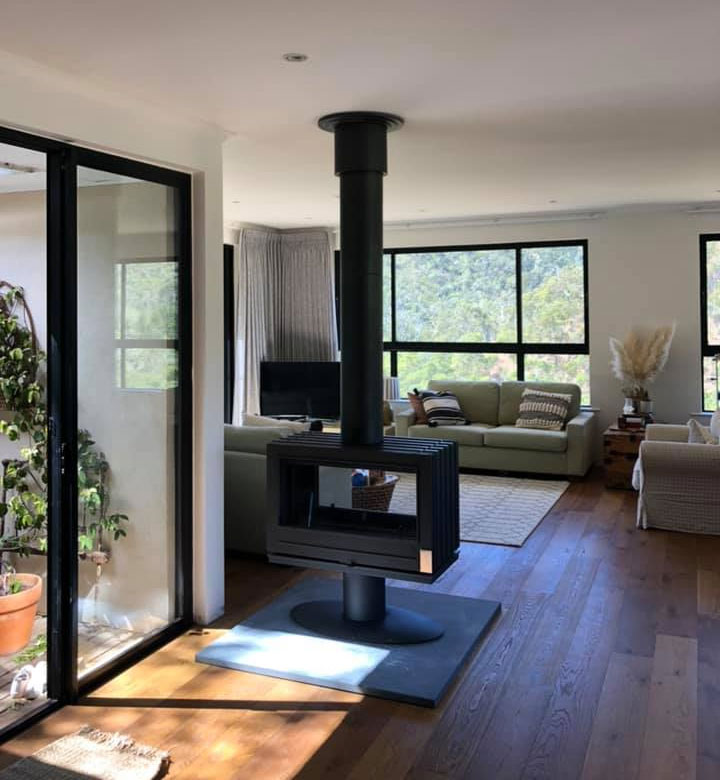 Choosing The Right Wood Heater
Choosing the right-sized wood burner for your needs is essential. If you install a heater that's too small, you will not get the heat you need; if the heater is too large, your efficiency will suffer. As licensed wood heater specialists, we've been installing wood burners across Adelaide for over ten years, so we'll give you expert help and advice to choose the right size and type of wood burner for your home.
Things to consider when choosing a wood heater
Heat can often leak out of a house through the windows, walls, doors and ceilings, especially if you have an older brick house without insulation. Our experienced team will look at the placement of your windows, the type of windows (single or double glazed), the layout of your home and your insulation to help you determine the correct size of unit and the best location for your wood heater.
Wood Heater Installation Options
Modern wood heaters are ultra clean and require very little maintenance beyond an annual service. They are highly versatile and come in various shapes and sizes, so there are plenty of design and installation options.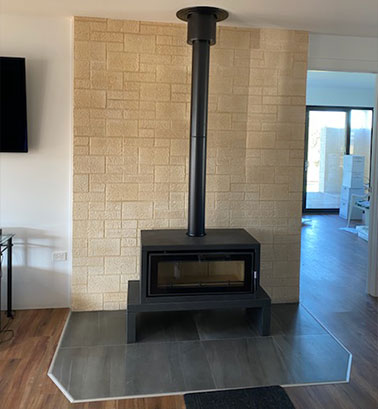 Free-standing Wood Heater
Free-standing wood heaters are an excellent option for homes without an existing fireplace. They can be located almost anywhere in the house and have a free-standing chimney pipe called a flue. They come in multiple configurations, with or without legs, or can be mounted on a plinth, stand, shelf or bench. Wood stacker models even come with built-in log storage.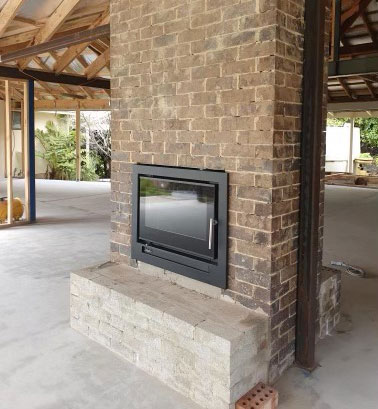 Built In Wood Heaters
Built-in fireplaces create a focal point for a room, provide a warm and welcoming place to gather around, and help create a beautiful ambience when lit. Built-in wood burners are built into the wall or chimney and become part of the home's structure. They can be fitted inside an existing chimney place or our technicians can design and build a built-in fireplace for you.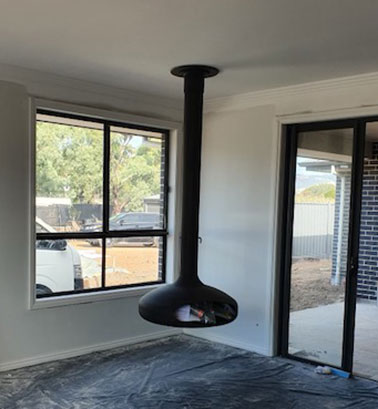 Suspended Wood Heater
Suspended wood heaters are the ultimate in contemporary styling. They have no base and are suspended from the ceiling to create a stunning decorative centrepiece. Suspended wood burners are both beautiful and highly efficient as they radiate heat 360 degrees around the room and make a real design statement in the home.
The Best Wood Heating Brands
Wood heaters are an excellent investment; if maintained well, they can last anywhere from 10 to 20+ years. Papworth Heating and Cooling only supply and install quality brands we know and trust. We offer installation services for
Jindara, Cheminees Philippe, Euro, Eureka, Nectre, Morso, Regency
and many more.
Professional Wood Burner Installation
Installing a wood burner is absolutely not a DIY job and all wood burners must be installed by a licensed technician. If fitted incorrectly, your wood heater may leak smoke and combustion chemicals, including carbon monoxide, which could have fatal consequences.
Safe & Compliant
Our licensed installers (BLD289396) are meticulous about safety and will install, test and certify your wood burner before handover. We have a 100% safety record and you can be assured of a safe and compliant installation that meets or exceeds AS2918.
Guaranteed Workmanship
From installing and setting up the wood burner to testing the integrity of the seals and flashing around the flue on your roof, you can be certain of quality workmanship. We back our wood heater installations with a 12-month workmanship warranty, so you know you are in safe and reliable hands.
Heat transfer systems are a great way to help distribute the excess heat from your wood burner to other rooms in the house. They are ideal for smaller homes and can be used to transfer heat to up to four additional rooms.
Efficient & Effective
Heat transfer systems are a fantastic way to ensure bedrooms are kept warm and comfortable without having to install additional heaters. They are highly efficient and allow a single wood burner to heat multiple rooms in the home. Installing a heat transfer system costs between $1000 – $1500 depending on the size of the system.
Ducts & Vents
Heat transfer systems operate similar to air conditioning systems and use a fan combined with a series of insulated ducts in the loft space to distribute heat around the home. A suction outlet is installed in the ceiling near the flue of the wood burner. Once the room containing the wood burner reaches the required temperature, the excess heat is sucked through the vents and redistributed via a fan into other rooms of the home.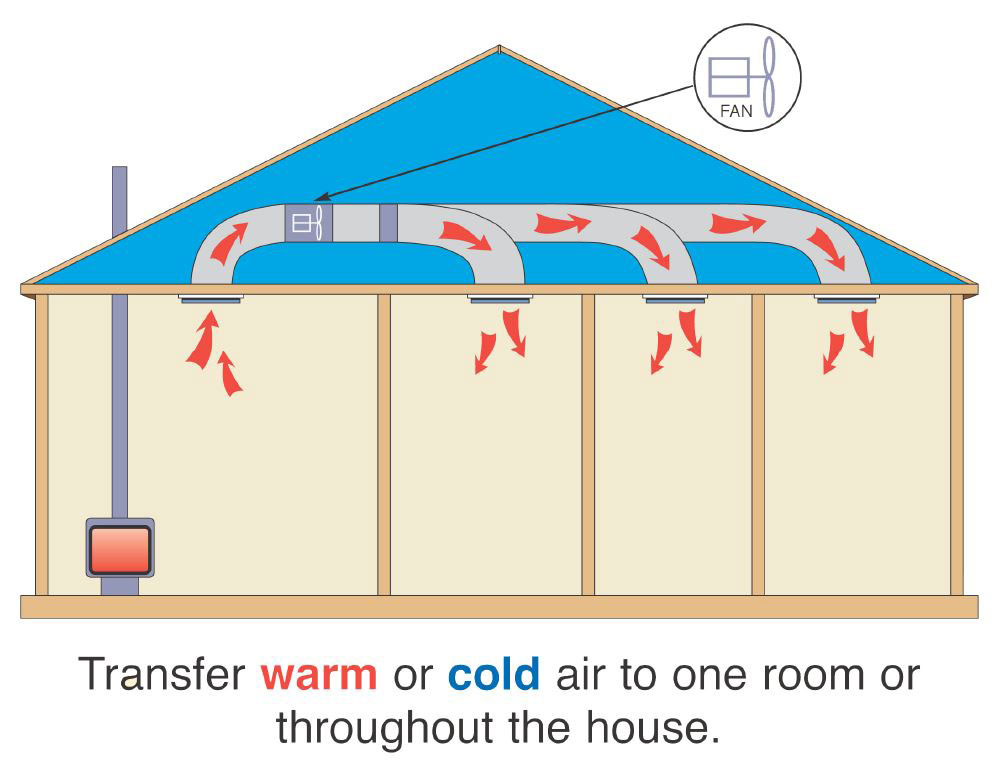 Chimney Sweep & Flue Cleaning Services
Once we've installed your wood heater, Papworth Heating and Cooling will be with you for the product's life as we offer annual servicing, repairs and regular chimney or flue cleaning services. Our team services and repairs all makes and models of wood heaters and has access to a wide range of spare and replacement parts. Our wood heater services include
Chimney inspections
Chimney sweep and flue cleaning
Flue upgrades and replacements
Roof leaks and replacement flue caps
Safety Inspections
Signs That you May Need A Chimney Sweep
If not regularly maintained, your chimney or flue can become blocked with ash, soot, dirt, dust or creosote. Blockages dramatically impact the efficiency of the chimney and its ability to expel harmful combustion gases, which is a genuine safety concern. If you are experiencing any of the following issues, we recommend you get your chimney and burner inspected by a professional.
Smoke or water leaks
Constant difficulty starting a fire
Back up of smoke in the firebox or chimney
Smoke coming from the flue
A build-up of oil spots (creosote) on the flue or outside the wood burner
Unusual odours
Soot falling from the chimney into the firebox.
Wood Heater not performing as well as it used to? Got concerns over the performance of your log burner? Then let the professionals check it out.


Email us
papworthheatingandcooling@gmail.com